My Knifemaking Shop

Shop Overview

Photos of my home garage knifemaking shop

| | |
| --- | --- |
| | |
| Overall view of my home based knifemaking shop | Left side overall view of the shop |

| | |
| --- | --- |
| | |
| Refurfished Rockwell band saw, buffer, KMG grinder | Baldor Buffer & KMG grinder with Flat Grinding Platen |
| | |
| --- | --- |
| | |
| Refurfished Rockwell band saw, buffer, KMG grinder | Baldor Buffer & KMG grinder with Flat Grinding Platen |
| | |
| --- | --- |
| | |
| The Lista Workbench | Work bench and belt station, Tool box nearby |
| | |
| --- | --- |
| | |
| Huge fan to keep cool while working | Misc. Home storage area |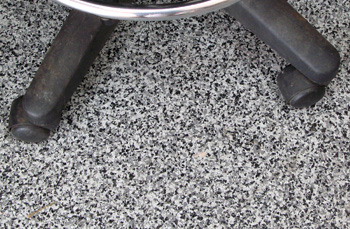 Industrial Fleck-stone finish on Concrete Floor
Equipment
Belt Grinder
The belt grinder is by-far my most usefull tool in the shop for knifemaking. My grinder is manufactured by Beaumont Metal Works and includes a flat platen, 8" wheel, and a small wheel attachment. It is driven by a 2 horsepower Baldor vaiable speed DC Motor. This photo is represenataion of the grinder, although it shows a continous speed motor with a pulley system to vary the belt speed.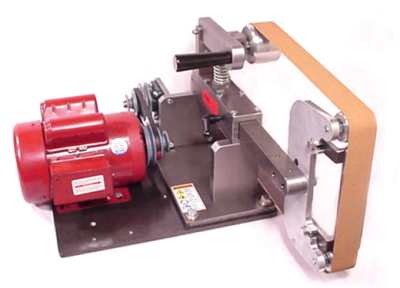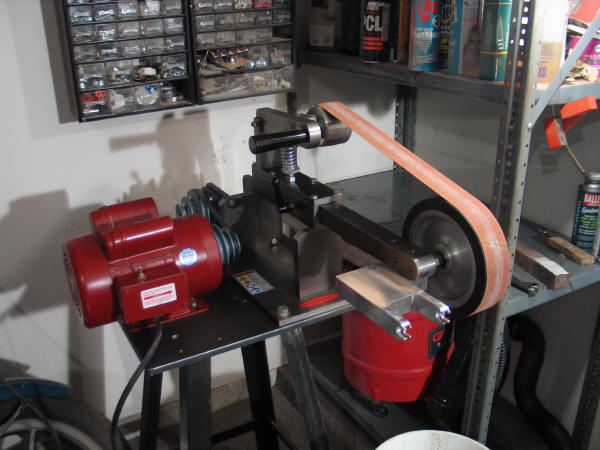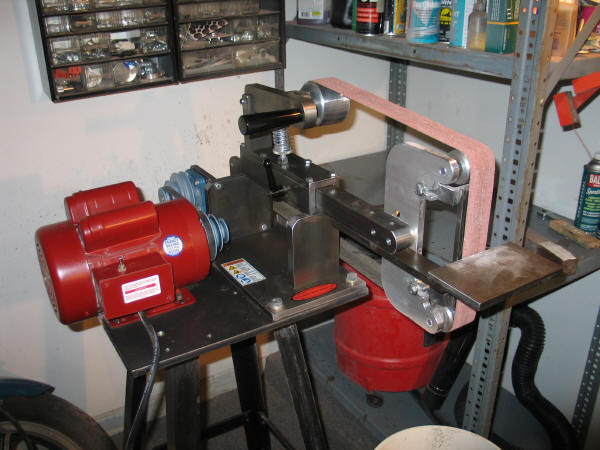 Verticle Band Saw
I bought this Rockwell bandsaw (P/N 28-290, 28-295) at auction for way too much money, but went ahead refurbished it correctly since I'd already outlayed the cash. I purchased new Carter brand upper and lower blade guides along with new bearings, drive belt and other missing parts from The Saw Center, Inc. and Manhattan Supply Company (MSC).
I currently use this saw for all non-metal components. I have plans, and have already purchased components, including 2hp DC motor and a variable speed drive in order to convert the saw into a metal / wood cutting saw.
Tutorials
Electro-Etcher
A relatively inexpensive way to add your maker's mark to your finished blade, is by using a home built eletro-etcher. The following page includes a wiring schematic and photos of a finished, homemade electroetcher.
Jump to the Electro-Etcher Web Page
This page was last modified on Sunday, 09-Dec-2012 23:26:23 CST
Send your comments and questions to us:
All Content © 2003 - 2017 LoGiudice Custom Knives. All rights reserved.